FOUR TRENDS IN PROFESSIONAL & CONTINUING EDUCATION
The rise of alternative credentials, building partnerships with other higher education institutions, the adoption of digital tools to improve the student experience and navigating the new normal are four trending topics in professional and continuing education in 2023.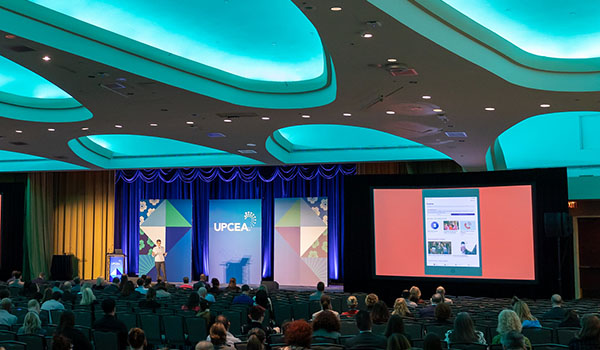 To stay current on the latest news and trends in professional, continuing and online education, the University of Washington Continuum College is an active member of the University Professional and Continuing Education Association (UPCEA).
This past March, eight staff members attended and spoke at the 2023 UPCEA Annual Conference in Washington, D.C. Discover four trends in professional and continuing education our staff members noticed and learn where Continuum stands in the industry.
1. THE RISE OF ALTERNATIVE CREDENTIALS: MICROCREDENTIALS AND DIGITAL BADGING
For decades, institutions have offered credentials beyond degrees to expand how they recognize students' educational achievements. Because students and employers are demanding more modular, flexible and skills-based learning, institutions are growing interested in providing new, alternative credentials.
One solution is the implementation of microcredentials and digital badges. Microcredentials are short, focused credentials designed to provide in-demand skills, knowledge and experience. Institutions can offer students stackable microcredentials for credit and noncredit programming that provide a pathway to a certificate or full degree. Digital badges are a graphical representation of competencies earned through learning. Students can display these badges on social media, websites, email signatures and online resumes.
At UPCEA, panels on microcredentials and digital badging covered various topics, from using research to gain insights into how students and employers perceive these credentials, to creating credentials using student-centered design thinking. Karen Haberfeld, director of program development strategies, says the panels inspired her to develop new and stronger connections with industry partners to improve the quality of our digital badges.
"These partnerships would enable us to design programs that better align with the skills job seekers need now and into the future," says Haberfield. "And understand why employers would value these digital badges."
At Continuum, adult learners can earn digital badges through UW Professional & Continuing Education (UWPCE) courses such as Foundations of UX Writing, Network & System Administration, Change Management, Foundations of Databases & SQL Programming and Foundations of Programming (Python).
Students in grades four through 12 can also earn badges for topics like Java programming and writing through UW Youth & Teen Programs. In winter 2024, UWPCE is launching a new Specialization in Digital Badging & Microcredentials which can help professionals in education implement a microcredential program for their school or enterprise.
Rovy Branon, vice provost, and Bryan Blakeley, assistant vice provost for learning innovation, further discuss Continuum's work with microcredentials in a piece in Aaron Brower's and Ryan Specht-Boardman's new book, New Models of Higher Education: Unbundled, Rebundled, Customized, & DIY which received the UPCEA Phillip E. Frandson Award.
2. CO-OPETITION: THE GROWING NEED TO BUILD PARTNERSHIPS BETWEEN UNIVERSITIES
Although educational institutions often compete for students, there is a growing need for co-opetition, where traditionally competing institutions share information and solutions that strengthen the educational experience.
In the UPCEA panel, Innovation Through Supportive Relationships, leaders from diverse institutions discussed how they created, managed and maintained a monthly virtual support group during the pandemic and beyond. Christopher Cellars, director of professional and extended partner programs, says that exchanging ideas during these monthly meetings helped institutions adapt during rapid change and enabled leaders under immense pressure to unpack their vulnerabilities and receive support.
"We all face common challenges. Sharing information, processes and solutions can save everyone time and money," says Cellars. "In the end, if educational institutions can help each other rise above challenges, we'll all make a bigger impact on education for society."
3. ADOPTING DIGITAL TOOLS TO IMPROVE THE STUDENT EXPERIENCE
Despite the need for co-opetition, the competition between educational institutions is fierce when it comes to attracting students, staff and instructors. To help organizations stay competitive with enrollments and hiring, companies are developing digital tools to improve marketing and communication efforts, internal processes, and the student experience.
"I'm especially excited about products that help drive student success in a course," says Lalitha Subramanian, program management director for academic programs, who met with more than 60 vendors at UPCEA. "I saw many new education data analytics tools that could analyze trends and provide instructors with real-time feedback on student performance, class engagement and recommendations on how to adjust the program."
In addition to data-based tools, the adoption of automation services is on the rise, which aligns with Continuum's best practices. Continuum uses automated emails to increase efficiency and improve student engagement and retention. More recently, Continuum has begun piloting a short messaging service (SMS) program for UWPCE. Prospective students who opt into the new SMS service will now receive automated text messages with application deadline reminders and links to join info sessions.
4. EXPLORING WAYS TO NAVIGATE THE NEW NORMAL
Many educational institutions at UPCEA reported that the pandemic and recent events across the country changed the operational dynamics of their organizations. Across the board, institutions need help with hiring and retention, building collaborative communities, and navigating in-person, hybrid and remote workplaces.
To help address this at Continuum, the organization expanded the human resources team and created two new roles. To expand the scope of human resources to include efforts towards improving diversity, equity, inclusion and belonging (DEIB), Continuum hired Livy Yueh, director of people and culture. To create strategic plans for DEIB goals and commitments, and improve internal management and processes, Continuum hired Heidi Wickersham, director of initiatives.
Paula McArdle, program management director, expressed excitement over two ideas she heard at UPCEA for fostering more collaborative communities. "One institution created an internal database of employee profiles which includes interesting details such as how someone prefers to be contacted or receive feedback," says McArdle. "Another popular idea was encouraging employees to complete or even create a certificate program in remote work or distributed workforces."
Changes in technology, society and economics are causing higher education to evolve rapidly. As a result, innovation is key for professional and continuing education units to thrive in 2023. Being involved with organizations like UPCEA and exploring trends helps Continuum stay current and ensure our programs are sustainable, relevant, effective and accessible to students.
"One of my biggest goals for UPCEA was to become a better leader in lifelong learning," says Cellars. "Looking ahead and thinking about the lessons from this year's conference, one of my biggest takeaways was appreciating the professionalism and dedication of the Continuum team to provide the best educational experience."