Expanding Access to UW in the High School
The passage of Senate Bill 5048 opens the door to higher education for thousands of high school students in Washington state.
Since 1981, the University of Washington has partnered with high schools across Washington state to offer official UW courses to interested students. But until now, the option to enroll and receive college credits came at a cost to students and their families.
"This legislation is a game changer. To give academically eligible public school students access to free college courses, with no credit limits, opens the door to higher learning for everyone."

— Tim Stetter, Director of UW in the High School
UW in the High School (UWHS) students take real college courses in their own classrooms, where they are taught by high school teachers who are approved and trained by UW faculty. The teachers use UW syllabi and teach the UW course using the same texts, assessments and grading as instructors teaching the course on campus. The program enables students in these courses to both experience the rigors of a UW course and earn UW credit that can be transferred to other colleges and universities around the country.
Historically, UWHS students and those enrolled in other College in the High School courses in Washington state have had to pay to register to earn college credit. Outside of limited state grants to school districts and some school districts finding other funds to subsidize students, it was up to the student and their family to pay. This fee-based model perpetuated inequity in access, with low-income students choosing to take College in the High School courses without earning college credit because they could not afford to register.
Over the last year, a group of education leaders and a key legislator came together to change that.
Introduced by Senator Mark Mullet of Issaquah in December 2022, Senate Bill 5048 passed the Senate and House unanimously during the most recent legislative session and was signed into law on May 4 by Governor Jay Inslee. The new legislation eliminates College in the High School fees for all public school students. Beginning with the 2023-2024 school year, thousands of academically eligible public high school students across the state will be able to take courses from UW at no cost, including students who would not otherwise be able to pay to register for college credit.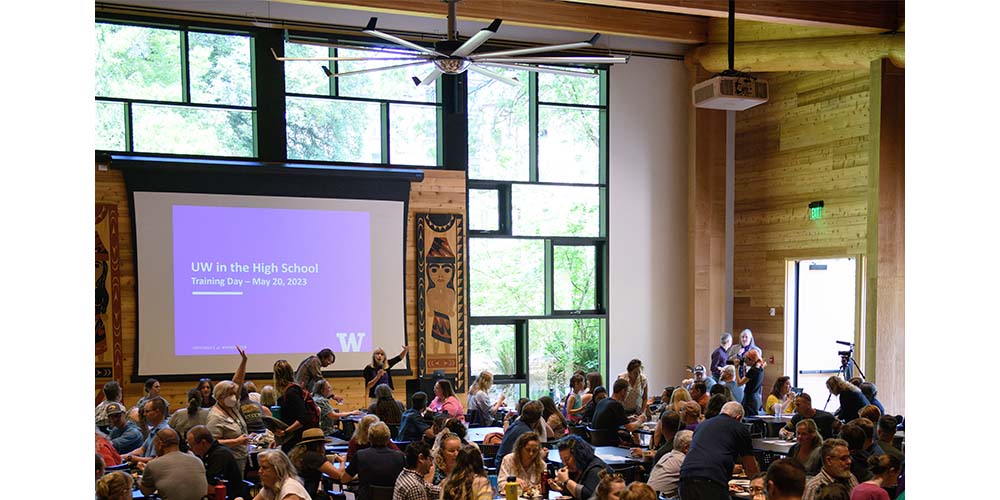 UWHS Teacher Training Day.
The new legislation was celebrated at the UWHS Teacher Training Day on May 20, when nearly 200 high school teachers came together in-person for the first time since 2019 to attend training sessions with UW professors who teach the same UW courses on campus, network with their UWHS teacher colleagues; and hear from UW Continuum College vice provost Rovy Branon, UWHS director Tim Stetter and Mullet.
"If you're going to put the state's resources behind one program and really try to make it successful, I decided this was the one that would be the best place to invest time and energy," Mullet told the attendees.
Mullet explained that different funding models for College in the High School programs had been considered in the past, but none had gained traction until now. "We were able to lower the cost and dramatically expand access to College in the High School for the first time," he said. "We'll have a lot more of our youth choosing post-secondary education because of this bill."
UWHS leaders were optimistic about what the legislation represents and the opportunities it will provide.
"This legislation represents something beyond what it will do for our students," said Branon. "It's pretty special when government works with educators in the collegiate sector and in K-12 to help families move forward. That kind of cooperation and compromise is unique to Washington state."
Stetter thanked the teachers and UW faculty in attendance for helping 92% of students in the UWHS program pass their courses and demonstrate comprehension of the material similar to their college student counterparts. He spoke of the increased access this new legislation will provide for Washington students in the years to come.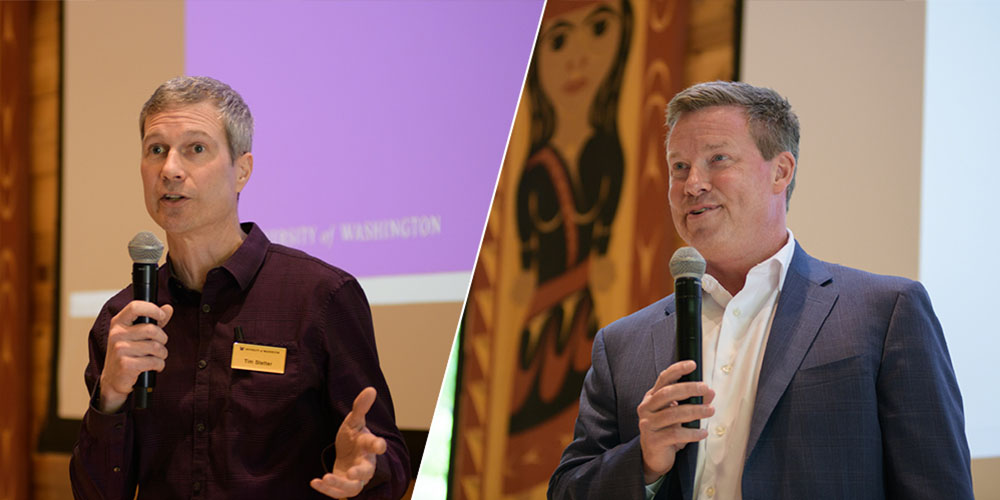 UWHS Director Tim Stetter (left) and Senator Mark Mullet (right) speak at the UWHS Teacher Training Day.
"This legislation is a game changer," said Stetter. "To give academically eligible public school students access to free college courses, with no credit limits, opens the door to higher learning for everyone."
Looking Ahead
The 2022-2023 school year saw around 5,000 students take part in UWHS courses at more than 100 high schools across the state. Stetter anticipates this will increase next year to 8,000 students from an expanded roster of schools.
In fall 2023, teachers will distribute the UWHS registration materials to all students in their UW courses. For the first time, there will not be a dollar sign on the registration form. Students will have approximately one month to decide whether to register to earn UW credit. If they do register with UWHS, they establish a permanent UW student ID number and UW transcript.
Next year, high schools and school districts will collaborate with UWHS to add UW courses to their course catalogs for the 2024-2025 school year. This legislation will encourage schools — particularly those with higher percentages of low-income students — to bring these free opportunities to engage in college coursework to their students.
Meanwhile, the UWHS program will work with UW academic departments to expand the list of courses available for high schoolers. In the 2022-2023 school year, the program launched UW Computer Science 180: Introduction to Data Science, and the number of teachers and schools offering the course in 2023-24 is expected to double. Other UW courses are in the pipeline for UWHS, so that the UW can continue to serve as "the University FOR Washington."