Spotlight on the Academic Excellence Team
At UW Continuum College, we know it can take a village to deliver true excellence. Our Academic Excellence team weaves together expertise in partnership, instructional design, video, learning technologies, curriculum design and assessment to create excellent educational experiences for UW students.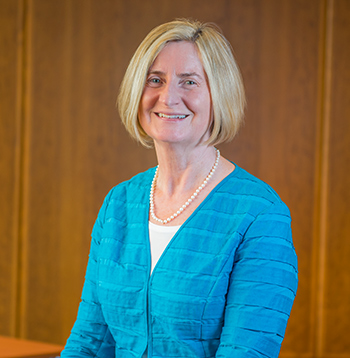 Karen Dowdall-Sandford, Senior Director, Academic Excellence
Every expert on the Academic Excellence team builds on decades of experience with a wide variety of projects — undergraduate degree completion; massive open online courses (MOOCs); stand-alone, self-paced credit courses; noncredit certificates delivered across four formats and more.
"We work flexibly with campus partners to consistently improve communication and academic quality," said Karen Dowdall-Sandford, senior director of Academic Excellence. "Together, we expand UW's ability to adapt, grow and help students thrive in an ever-changing world."
WORKING STRUCTURE
Every project benefits from the team's working structure, designed to combine expertise of Academic Excellence staff with the expertise of campus partners:
Academic Excellence starts every new partnership by clearly describing and documenting the goals of the course, program or degree – these learning objectives guide the process of course design.
After everyone involved understands these objectives, partners next collaborate to outline a sequence to help students reach learning goals.
Finally, Academic Excellence guides work with instructors and developers to create learning content, as well as assessments that allow departments to understand student performance and evaluate the curriculum.
"We create 'the how' together, and we use feedback to iterate and improve," Dowdall-Sandford says. "This continuous, thoughtful structure not only helps our students to learn, but our programs to grow."
For example, Academic Excellence recently partnered with a program that was highly successful, but in which the curriculum had started to divide between online and in-person groups, as well as different sections. These discrepancies were making it difficult to recruit new instructors and accept qualified students.
When Academic Excellence partnered with this program, instructors gained clear objectives, rubrics that saved time on grading and modular content that could be effectively delivered in different formats. Plus, to help instructors understand this new way of teaching, Academic Excellence also offered online instructor training, coaching, a resources website and ongoing support — a suite of services that are available to every program partner.
"We know that curriculum development can only make a difference if we turn it into meaningful instruction," Dowdall-Sandford says. "This transformation gave students opportunities to learn in different ways, responding to the demands of their lives."
EXPERTISE IN EXCELLENCE
Academic Excellence staff bring proven expertise in delivering a range of subjects online and through video. They also bring a deep understanding of technologies like Canvas and Zoom, and how to design learning content within these systems that's effective for both teachers and students.
Instructional Design: Academic Excellence's instructional designers focus on learning content and activities, applying a variety of teaching tools and techniques to specific courses and student needs. The team recently helped increase student engagement in an online Science Fiction and Fantasy course, and has created productive ePortfolios for two degree programs: the online Bachelor of Arts in Integrated Social Sciences and the online Bachelor of Arts in Early Care & Education.
Video: Two teams in Academic Excellence provide support for programs with differing video needs. The Instructional Multimedia team helps instructors design engaging video — from interviews, to lightboard recording, to animation. (Their animation was a big boost for Matt McGarrity's MOOC, Introduction to Public Speaking, which has delivered learning to more than a million people.) For traditional courses, the EDGE team provides video streaming that allows instructors to teach as they always have, while making their teaching available to students around the world, at any time.
"We're here to support UW's ability to innovate and change. We strive to always deliver excellence that benefits students, instructors, departments and the world at large."

—

Karen Dowdall-Sandford
Assessment: The Learning Systems and Assessment team ensures UW programs can adopt the best possible learning technologies, which offer advanced ways to assess student performance and provide active learning. By first identifying needs in course and curriculum design, these experts give students tools to practice the knowledge they learn, use it in new contexts and receive feedback on their ability to apply their learning in real-world situations. The team's work enables instructors to help specific students and, increasingly, helps programs use analytics to improve learning outcomes, curriculum, lessons and assessments.
UW Continuum College knows high quality programs keep UW competitive on the national platform of online education. As part of the commitment to continuous quality improvement, Academic Excellence adapts industry standards, such as Quality Matters, to our local context at every step. They create professional development opportunities to share knowledge about the standards with faculty and instructors, as well as to highlight best practices in curriculum development, course development, instruction and assessment.
"We're here to support UW's ability to innovate and change," Dowdall-Sandford says. "We strive to always deliver excellence that benefits students, instructors, departments and the world at large."
---
Since 1912, University of Washington Continuum College has provided innovative learning paths that boost career success and inspire more meaningful lives. With a flexible approach to delivering the right programs for the right people at the right time, Continuum College provides over 50,000 students each year with a high-quality University of Washington education that's relevant for today's world and accessible to learners in Seattle and around the globe.