Grace's Story
Grace Ingram never gave up on her dream of earning her bachelor's degree. now she's inspiring others.
I know that a good education can turn your life around. I wanted to be that inspiration for my children.

—

Grace Ingram, Alumna, Bachelor of Arts in Early Childhood Education
Grace Ingram is a family support specialist for the José Martí Child Development Center at El Centro de la Raza, a Seattle community center that helps vulnerable and marginalized people. "When moms talk to me about their challenges, and they say they want to go back to school but don't know if they can, I share my story. I tell them not to give up," Ingram said.
And she knows what she's talking about.
The deck was stacked against Ingram, who earned her bachelor's degree from the University of Washington in 2015. As a girl growing up in inner-city Los Angeles, she faced hardships that interfered with her education. "I always loved school," Ingram said, "but there were other things in my life keeping me from being focused on school."
Ingram described her family's poverty and her mother's struggles. "My mother became disabled when I was 13 years old. At that age, I didn't understand it. It gave me a lot of anxiety. I couldn't concentrate, couldn't read my books. I think it affected me developmentally. I was insecure. I made mistakes."
She dropped out of high school and got married. She started a family. But the idea of getting an education never left her. Ingram completed her GED and then a high school diploma at Olympic College. She began taking classes toward an associate degree, slowly over many years, as she raised four children and worked to support them. "I kept building my confidence," Ingram said. "I kept saying to myself, 'You can do this.'"
Going For It
As she earned her AA degree, Ingram started on a career path with a focus on helping others. Eventually, she became a case manager in a chemical dependency recovery center. But in time, the requirements of her job changed and she needed to have a bachelor's degree — something she always wanted to accomplish anyway, she said.
When Ingram went online to research her options, she discovered the newly launched Bachelor of Arts in Early Childhood & Family Studies (now known as the Bachelor of Arts in Early Care & Education), a UW degree completion program developed and administered in partnership with Continuum College.
"Oh my gosh, it was just like a miracle," Ingram said. "But then, did I think I'd ever be accepted into that program? No way. The UW? With my rocky road to education?"
But Ingram's children encouraged her to apply, and sure enough, she was admitted.
Showing Others What's Possible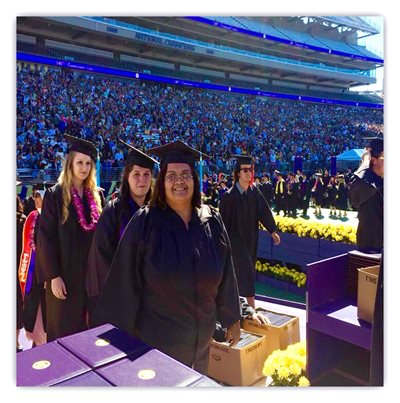 Ingram was thrilled to have an opportunity to complete her degree at the UW. Even so, she still faced challenges — a demanding full-time job and children who needed her care.
Then, during her last quarter in the program, she was hit with an almost overwhelming blow: Her landlord demanded that she move her family immediately so the house could be sold. She didn't see how she could keep up with the demands of work, life, moving and meeting her academic deadlines.
"I'm the kind of person that keeps things to myself, especially during a crisis," Ingram said. "I know that's not a good thing, but that's how I grew up."
But finishing her degree was too important. She reached out for help to her academic adviser, Jenni Campbell, who contacted Ingram's professors. Together, they gave Ingram the support she needed to complete her credits and walk across the stage at graduation.
"I know that a good education can turn your life around," Ingram said. "I wanted to be that inspiration for my children. And I'm so happy I can be in a position to help mothers going though similar situations."