Robin Chin Roemer
Instructional Design & Outreach Services
Navigating the vast resources of the UW Libraries can be a daunting experience for any college student. And when it comes to research, nontraditional students can feel especially lost if they find old study habits don't work for their current lifestyle.
Librarian Robin Chin Roemer is ready to light the way.
Tapping Into Strengths
"Often the biggest change for folks who've been away for a while is just how much information is now available to them remotely," Chin Roemer said. "My personal philosophy has always been to give them the tools to have the right instinct. I'm here to help fill in the details."
Chin Roemer leads Instructional Design & Outreach Services, a unit of the UW Libraries dedicated to serving students in fee-based degree programs offered in partnership with UW Continuum College.
Chin Roemer was the unit's first hire in 2013, under what was then known as UW Educational Outreach. Since then, she's infused her expertise in bibliometrics and altmetrics across a suite of services tailored for adult, professional and nontraditional learners.
"They're not going to spend four hours in the library picking out all the books," she said. "One thing that I love about this population is, I can ask them where they want me to start. What are their priorities and anxieties? If you do that with undergraduates, it's like crickets. With these populations, they have a million questions."
Providing Access, When and Where Students Need It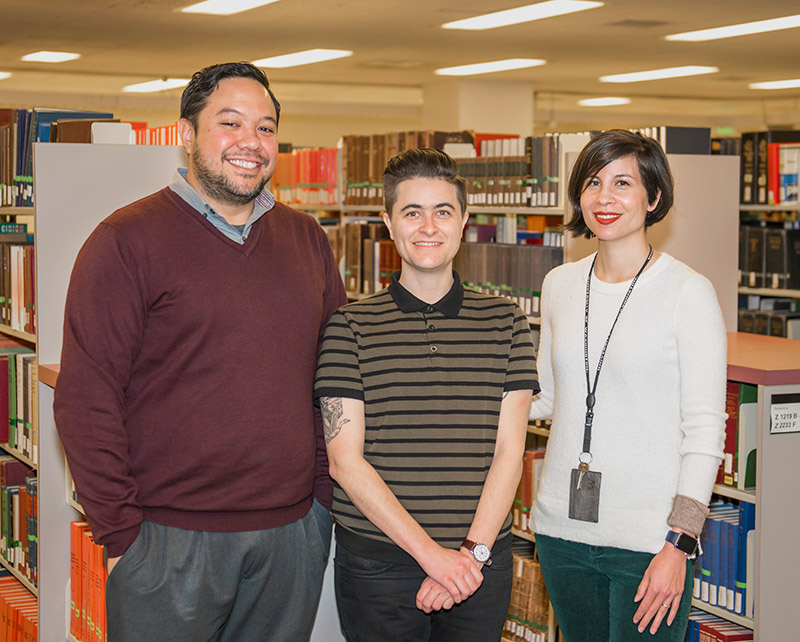 Perry Yee, Reed Garber-Pearson and Robin Chin Roemer (left to right)
Instructional Design & Outreach Services, funded through the central services budget, offers face-to-face library services, online resources and 24/7 support for students who are learning remotely or at their own pace. Plus, librarians Perry Yee and Reed Garber-Pearson also offer specialized support for online learners and students earning the fee-based Bachelor of Arts in Integrated Social Sciences.
Chin Roemer successfully advocated for the direct link to library services that's now available in Canvas. The team also develops subject matter databases — more than 300 to date — that bring together sources such as scholarly works, current newspapers and industry reports. And, Chin Roemer said, students in fee-based degree programs can soon look forward to more online writing support, thanks to ongoing collaboration with the Odegaard Writing and Research Center.
Improving the Student Experience, Together
A couple of years ago, Chin Roemer interviewed about a dozen nontraditional students, who shared powerful insights about how library services could be better aligned for students' busy lives. Now, she's continuing that dialogue through the new UW Libraries' Professional & Continuing Education Student Advisory Board, comprised of students in fee-based degree programs.
"Information is our bread and butter — it's what we are trained to do," she said. "But students don't think of their needs one at a time. We want to think collaboratively and about the whole student experience."
Chin Roemer said Instructional Design & Outreach Services already offers workshops to help students improve research skills and to help them network with peers and professionals in their fields. For the future, she envisions helping students prepare for capstone courses or exploring options for how they could apply their new skills across a variety of careers.
We're small and mighty, and we're happy to leverage the power of the whole library if we can.

—

Robin Chin Roemer
She says her team is also eager for new collaborations with staff and campus partners who support fee-based degree programs, especially as UW Continuum College and UWPCE programs respond to market needs and serve the public good.
"We're small and mighty, and we're happy to leverage the power of the whole library if we can," Chin Roemer said. "We're just looking for those conversations and those chances to make it all happen."
To connect with Robin Chin Roemer and the Instructional Design & Outreach Services team, email uwlibidteam@uw.edu.
---
Since 1912, University of Washington Continuum College has provided innovative learning paths that boost career success and inspire more meaningful lives. With a flexible approach to delivering the right programs for the right people at the right time, Continuum College provides over 50,000 students each year with a high-quality University of Washington education that's relevant for today's world and accessible to learners in Seattle and around the globe.