Using a fitness tracker to record your steps, heart rate and sleep is the new normal. Crafting a device that integrates design, usability and computer engineering takes experts in human-computer interaction and design, a field that focuses on how humans interact with computers in the creation of computer technology.
Human-computer interaction and design is the art and the science behind the Fitbit and Apple watch and is also used to create interfaces both on and off the screen to support behavior change, improve communication and commerce, and solve larger societal problems.
The rise in smart and interactive technologies have meant a large interest in the UW Master of Human-Computer Interaction + Design (MHCI+D), a fee-based degree developed in partnership with UW Continuum College.
The unique, interdisciplinary program is housed among four academic units – the Information School, Computer Science & Engineering, Human-Centered Design & Engineering and Division of Design in the School of Art + Art History + Design.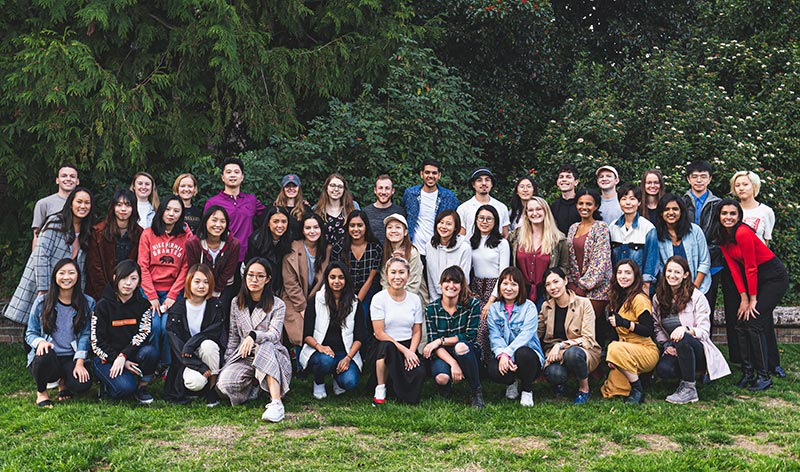 The MHCI+D class of 2020 on their first day.
"We seek to produce a new generation of designers, engineers and researchers, who can successfully combine the creative aspects of design and the study of human behavior with the analytical techniques of an engineer," said Mary Larson, director of operations and original staff member for MHCI+D. "Ultimately, the goal is for graduates of this program to use their knowledge to create innovative products, " she said.
A grassroots program, MHCI+D is in its seventh cohort and thriving. "Come August, 200 students will have graduated from the program. Application rates are also rising steadily, growing from 70 applicants in 2012, when the program started, to more than 600 in 2020," says Larson. The key to success, according to Larson, is largely due to the interdisciplinary and collaborative work of the departments. This program can be used as a template to design other effective interdisciplinary curriculums.
Commit to an Interdisciplinary Faculty
Founded by the award-winning research group known as Design. Use. Build. (DUB), MHCI+D is overseen by an interdisciplinary faculty group, which is composed of two DUB-involved faculty from each of the four sponsoring departments (Computer Science & Engineering, Human-Centered Design & Engineering, Design in School of Art + Art History + Design, and Information School). "Faculty got involved because they thought it was important to have this professional master's degree to get their work out there, but they remain involved. They came to support, but they stay to teach," said Larson.
Much of what made MHCI+D possible was UW Continuum College's ability to support this program as a fee-based degree when the traditional grant funding was not available to establish the program. Larson notes, "Without the fee-based option, and the experience of the Continuum College staff in getting MHCI+D up and running, it wouldn't have gotten off the ground."
Now that the program has momentum, MHCI+D still relies on the experts at Continuum College for financial oversight and advice, course creation and other infrastructure services.
"I have been especially grateful for the knowledgeable and helpful Continuum College staff members I work with. We are often trying unique things and they continue to offer support and vital information so that MHCI+D can achieve its goals," said Larson.
Foster Leadership and Collaboration
The MHCI+D field requires many different skills, and one of the hallmarks of the program is that it attracts students from all backgrounds, which range from designers to computer scientists to researchers in anthropology and psychology.
The result is a rich experience that allows the students to develop leadership skills while training each other in various fields. At the end of the day, the students understand and respect what each other is contributing, which is a draw for the HCI and design industry.
"I've had more than one person from the industry talk about how our students are promotable. They don't just code. They don't just move pixels. They see how it all fits together and they respect, understand and seek out other types of expertise," Larson says.
Emphasize the Student Experience
In this master's degree program, the goal is to build professionals who can think critically about a project and collaborate with others. Students are encouraged to bond with each other, network with alumni, meet people in the industry and learn from faculty and DUB community members.
The program measures success by focusing on the student experience – how students collaborate and what they give back to others in the program. Larson notes the program's purpose is not to churn out projects that can go to market in six months.
"I think it's fair to say that we're a success story since about 95% of graduates are in touch with us and many give back to the current class. They are mentors, capstone advisors and they help students get employment contacts. Beyond just the one year they spend in classes, students graduating from the MHCI+D program stay involved with the growing MHCI+D community and that strength is something we can count on," said Larson.