UW in the High School registration rises 50%
New state legislation helps thousands of Washington students earn college credits at no cost.
It's a record-smashing year for high school students across the state of Washington who are taking advantage of a new opportunity to earn college credit.
Registration for UW in the High School (UWHS) is expected to reach an all-time high of approximately 7,500 registrations for Autumn 2023 — that's a 50% increase over the same time period last year, when UWHS set the previous record with about 5,000 registrations.
UW in the High School is one of the state's College in the High School programs, which offer students the opportunity to earn both high school and college credit at the same time.
This year's unprecedented spike in UWHS participation is directly attributed to a new Washington state law that eliminates College in the High School fees. State Sen. Mark Mullet (D-Issaquah) introduced the legislation, Senate Bill 5048, which passed unanimously and was signed into law last May.
The result: Starting with the 2023-24 academic year, thousands of public high school students across Washington can now earn college credits at no cost.
"In just one semester, we are already seeing how this new state support is helping more Washington students pursue their college dreams," says Tim Stetter, director of UW in the High School. "Students have been earning college credits through UWHS since 1981, and in recent years, the registration fees could add up to hundreds of dollars per course. We have known that many eligible students never registered to earn college credit, even if they passed their courses, because their families couldn't afford the cost. We are all truly heartened that so many students are now able to access this opportunity."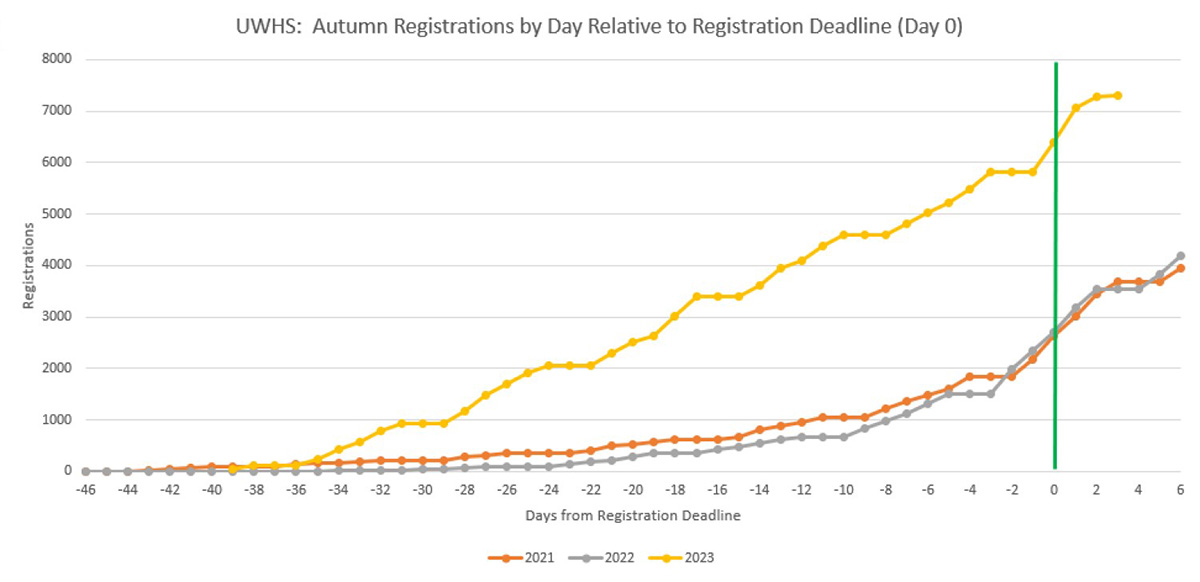 How UWHS Works for Washington
Through UW in the High School, students can take real University of Washington courses in their own classrooms. They learn from their own high school teachers, who are approved and trained by UW faculty, and use the same syllabi, texts, assessments and grading used in these same courses taught on UW's Seattle campus.
Students who participate in UWHS courses — including computer science, humanities & social science, math, science and world languages — experience the rigors of a university-level course, and historically, more than 92% of students pass the UW courses they take in high school with at least a 2.0 grade. This achievement allows students to earn both high school credits and college credits that can transfer to UW or many other colleges and universities around the country.
For 2023-24, UW in the High School courses are available to students at 114 public and private schools throughout Washington state. Partner schools are located throughout districts in the Seattle Metro area, across Southwest Washington, Northwest Washington, Eastern Washington and the Kitsap and Olympic Peninsulas.
Public school students can now earn UW credit at no cost, while students at private schools pay $77 per credit — that's less than a quarter of the cost per credit for traditional UW undergraduate college courses.
Meeting our Mission
The nationally accredited UWHS program is proudly administered by UW Continuum College, which extends the University of Washington's public impact through a range of learning opportunities, including UW Professional & Continuing Education, UW Youth & Teen Programs, online master's degrees and the Online Bachelor of Arts in Integrated Social Sciences, a degree-completion program.
These high school students work hard to get a jump start on their college careers, and that's what drives our efforts to ensure UWHS students get the college credits they deserve.

— Rovy Branon, Vice Provost, Continuum College
Expert teams at UW Continuum College work together to manage the UWHS program, including the registration process for public and private school students, teacher training, course offerings, and support for UW faculty and departments.
"We know these high school students work incredibly hard to get a jump start on their college careers, and that's what drives our efforts behind the scenes to ensure UWHS students get the college credits they deserve," says Rovy Branon, vice provost of UW Continuum College. "It's part of meeting our mission to create and sustain a more equitable educational environment for learners of all ages."
To further raise awareness about UWHS and other opportunities for Washington residents to earn postsecondary credentials that can help them thrive, Branon says UW Continuum College will continue to work as part of a growing statewide community of education advocates,
UWHS in the Community
In many areas of the state, UWHS courses make it possible for students to prepare for careers in some of the world's fastest growing fields, such as computer science.
For example, while students in just 48% of Washington state high schools currently have access to foundational computer science courses, UWHS students at 15 high schools have been able to take UW introductory programming courses for more than 15 years, according to Lauren Bricker, an associate teaching professor in UW's Paul G. Allen School of Computer Science & Engineering.
Over the last two years, Bricker says, Allen School faculty and instructional staff have stepped up to supply expertise and support for two additional courses that allow UWHS students to explore the power of data science and related fields.
"Computers are so much a part of our everyday lives and impact so much around us," Bricker says. "The fact that UWHS is now available for free is a powerful tool in giving more students from across the state access to and knowledge in these key skills."
Students and their families aren't the only ones who benefit from participating in UW in the High School — high school teachers often say how meaningful it is to work with UW faculty as part of their own professional development, Stetter says.
"That collegial relationship can be a chance to connect about subject matter expertise, and their care and commitment to teaching and learning," Stetter says. "Plus, when UW faculty are able to visit with teachers in their high school classrooms, it can be a real treat for the students."
High schools and school districts are collaborating with UWHS to add UW courses to their course catalogs for the 2024-2025 school year. UWHS is also working with UW academic departments to increase capacity, expand the list of courses available to high schoolers, and to provide students with more advising and support.
Stetter says the new state law will encourage more high schools — particularly those with higher percentages of low-income students — to become UWHS partner schools so students can access these credit-earning opportunities.
The winter registration deadline for students at high schools that offer second semester UWHS courses is March 1, 2024. Families interested in learning more about UWHS options or how to become a UWHS partner school can contact their students' high school directly.
To learn more about UW in the High School, visit uwhs.uw.edu.
To learn more about UW Continuum College's range of educational offerings for learners age 7 to 87, visit continuum.uw.edu.